APICS CPIM Part 1 – EXAM
$995.00
Computer-based testing for the APICS Certified in Production and Inventory Management (CPIM) Part 1 exam is offered to candidates worldwide through Pearson VUE testing centers.
The APICS CPIM designation is earned upon successful completion of two exams covering the following five modules:
Basics of Supply Chain Management
Strategic Management of Resources
Master Planning of Resources
Detailed Scheduling and Planning
Execution and Control of Operations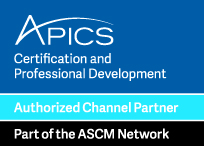 CSCP exam preparation
Your journey begins with the CPIM Learning Systems for Part 1 and then Part 2 exams.

The CPIM Learning System is a comprehensive preparation option that builds on your strengths and improves your knowledge.
Choose the learning option that works best for you, instructor-led classes or study independently at your own pace.
Take the exams. CPIM designees must successfully pass two exams to earn the CPIM certification.